BLOOMBERG LUXURY TRAVEL
by Fran Golden
It includes a $10,000-per-night suite—and all the caviar, lobster, and Champagne you can possibly consume.
It includes a $10,000-per-night suite—and all the caviar, lobster, and Champagne you can possibly consume.
On board the opulent new Seven Seas Explorer this week, Frank Del Rio, president and chief executive officer of Norwegian Cruise Line Holdings, took a moment to talk about the subject of conspicuous consumption.
"This idea that one-percenters are the evil empire of the world is over," Del Rio said. "It's time to celebrate success. It's time to celebrate wealth. This ship is a trophy to the one-percenters."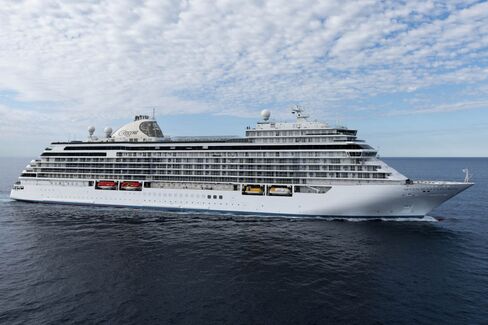 The Regent Seven Seas Explorer. Source: Regent Seven Seas Cruises
The Seven Seas Explorer is a $450 million, 750-passenger, all-suite triumph of luxury—the first new ship for NCLH's high-end Regent Seven Seas Cruises brand in 13 years. It's designed to make a splash, as well as a profit: Extravagance was always core to the plan when it was being conceived, and subtlety was never a consideration. Del Rio's simple goal was to create the most luxurious cruise liner ever built.
Jaw-Dropping Design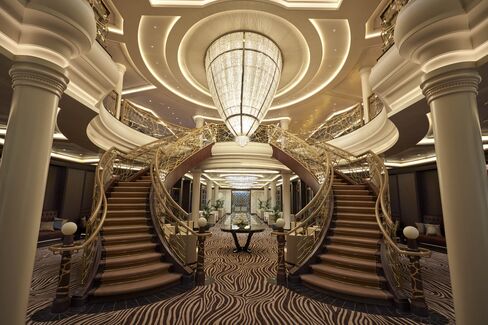 The grand lobby of the Explorer. Photographer: Steve Beaudet
On a pre-inaugural cruise in the Western Mediterranean for media, travel agents, and company insiders, I had the run of the ship for five days. The most striking feature of this Italian-built, 55,254-ton ship is how palatial it feels.
Ceilings seem to soar endlessly, the floors are done up in intricate stone patterns (sometimes with gold leaf accents), and even the guest hallways have Czech crystal and glass chandeliers. There's an entire football field's worth of marble onboard, half of it Carrara. The overall look is more Grand European Hotel than your typical cruise ship.
Three design firms worked on the project, but somehow their work flows seamlessly. They report that "no" was a word rarely heard from the money guys.
Asked the craziest thing he got away with, Greg Walton of design firm CallisonRTKL cited a $500,000, three-ton sculpture made from hand-cast bronze that resides outside the ship's Pacific Rim restaurant. It's so heavy, it required steel reinforcement.
"The answer from Frank [Del Rio] was a resounding 'yes,' no matter what it weighed or what it cost when he saw the design," Walton said.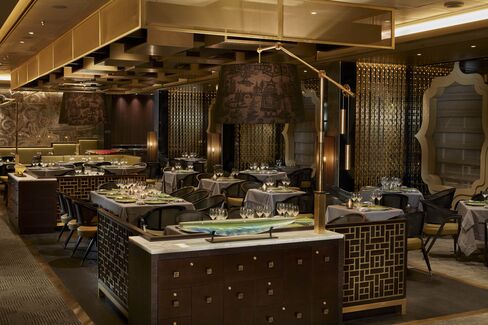 The Pacific Rim restaurant on board the Explorer Photographer: Steve Beaudet
Del Rio himself was responsible for choosing (and even hanging) much of the art, and his refined taste comes through, clear as day. In the lobby are dramatic abstract paintings by Eduardo Arranz-Bravo, the famed Spanish artist, that were commissioned for the ship. And from the bar in front of Prime 7 steakhouse, you can spot pieces by Chagall and Picasso.
Five-Star Accommodations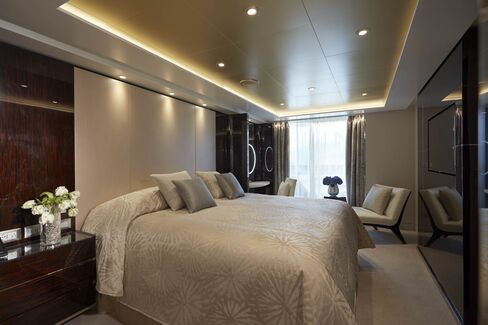 One of the suites. Photographer: Steve Beaudet
Up in the Explorer's top, $10,000-per-night Regent Suite, which occupies much of Deck 14, travel agent Bob Newman aka "CruiseExpertBob" was wide-eyed and smiling so hard he could hardly talk.
"It's fabulous," said Newman, a vice president for Rhode Island-based Cruise Brothers. "Nothing compares to this. It's just unique. That's the only word I can use for it."
Explorer has 375 suites in 10 categories, all with marble bathrooms and oversized balconies—a key differentiator from its competition. On similar ships by Silversea, a luxury cruise line, everyone gets a butler; only select suites on the Explorer get that perk. But everyone gets Veuve Cliquot or Jacquart Champagne and L'Occitane bath amenities, plush bedding, and furnishings, with the quality and perks increasing the higher the suite level.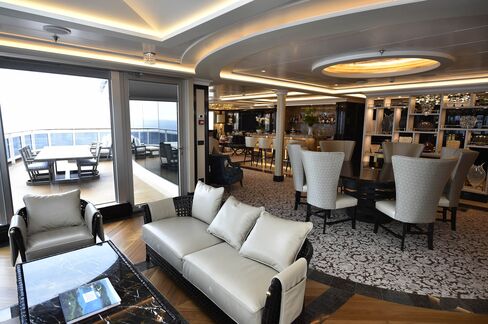 The $10,000-a-night Regent Suite. Source: Regent Seven Seas Cruises
The apex is the two-bedroom, 4,433-square-foot Regent Suite—the largest suite at sea—which comes with a limousine and driver so you don't have to give up the VIP lifestyle in port. In the master bedroom, you can rest your head on a $90,000 Savoir No.1 bed that cost an additional $60,000 to install. There's a one-of-a-kind, $250,000 Steinway Arabesque piano designed by Dakota Jackson in the living room. There's also a private spa with sauna, steam shower, and an oversized, ocean-view hot tub—complete with unlimited treatments from the ship's Canyon Ranch SpaClub. Even the heavy black-lacquer double door to the suite's marble entrance hall is designed to impress; it's flanked by a pair of his and hers Picasso lithographs.
Eat Like a King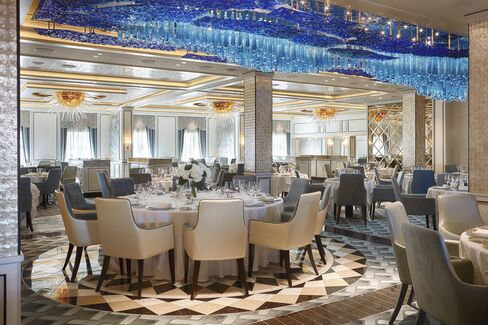 Compass Rose, the flagship restaurant. Photographer: ©2016 Steve Beaudet
The eight restaurants aboard the Explorer boast a wide array of Champagnes; the ownership estimates 1,000 bottles will be consumed each week. And though you'll have to pay a premium for the best of the bubbles (Louis Roederer "Cristal Rosé" 2007 champagne goes for $525; a Château Margaux 1er Cru Classé 2007 was $1,150), many more treats come complimentary. At breakfast, there's a self-serve caviar station with Siberian Osetra, blinis, and all the accoutrements your heart could desire. (Pro tip: You could also use a hearty spoonful to top your three-egg omelet).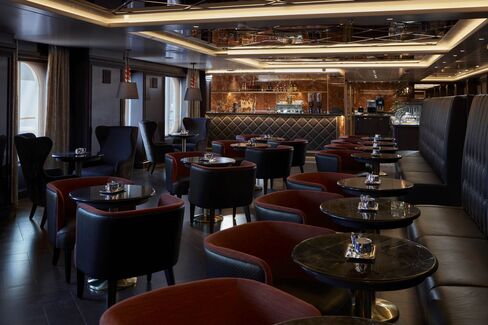 The Café on deck five. Photographer: Steve Beaudet
At dinner in Compass Rose, the ship's flagship restaurant, you can order from the chef's daily-changing, European-inspired menu or get healthy offerings designed by Canyon Ranch. It's not quite as progressive as the molecular gastronomy-style restaurants aboard the larger Crystal Cruise ships, but the menus are full of crowd-pleasing items. If you like, you can order Maine lobster every night. (It's a safer bet than ordering steak, which didn't always arrive at the temperature requested.)
You can also put in a special request. As long as you give the chefs 24-hours notice, they'll make any recipe you give them—even your mom's lasagna, if that's what you're craving. It may taste just like home, but when it's served on Versace chargers, it'll feel a wee bit fancier.
At one point, Del Rio bragged that his top chefs—many of whom were recruited from France—are paid more than the ship's captain. "We have to pay top dollar to recruit top talent," he said. They might be talented indeed, but they're not Thomas Keller (who recently struck a partnership to design menus for Seabourn, one of Regent's competitors).
What It'll Cost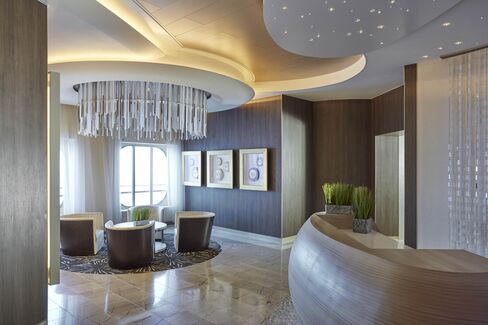 The entrance to the Canyon Ranch Spa. Photographer: Stephen Beaudet
Regent stands out in the luxury market by including almost everything you can think of in its cruise fares: flights, pre-cruise nights at luxury hotels, several options for shore excursions in each port, Wi-Fi, premium drinks, gratuities, and more. All those inclusions make it the most expensive of the luxury cruise brands—and a favorite with travel agents, who happily get commissions on all of the above.
On the Explorer, that translates to a price point of about $1,000 per person per night, which varies slightly based on the itinerary. The most affordable itineraries available are for March 2017, when you can get on a 10-night Caribbean cruise departing from Miami for an entry-level price of $5,499.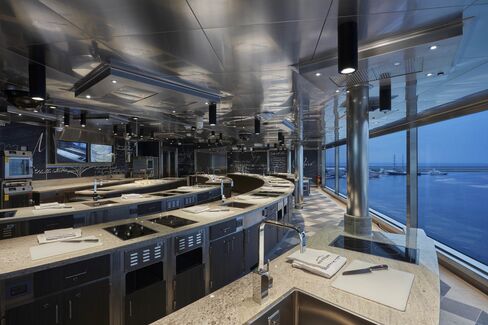 The Culinary Arts kitchen, where guests can take cooking classes. Photographer: Steve Beaudet
"We really wanted to set a new standard, to take it to the next level with Explorer," said Jason Montague, president and chief operating officer of the Prestige division of NCLH.
Clearly, the public is responding. The Explorer is selling well—including the $10,000-per-night suite, which is all but sold out this year and already booked for more than half of next year.
"It's selling too easy," Del Rio said gleefully. "I quite frankly believe we'll be raising the price."
As for Regent having the world's most luxurious ship, Richard Meadows, president of rival Seabourn, said it wasn't a major concern to him or his brand.
"I think what's great about our industry is the consumer has choices and it is ultimately up to them to decide what is their definition of the perfect vacation."
But Regent has thrown down the gauntlet, and Meadows is ready to respond. He said the Adam Tihany-designed Seabourn Encore, previewing in December, would be "the most beautiful ship ever built" and offer exceptional service.
"It's the sum of all the parts," Meadows said. "When you see the finished product onSeabourn Encore, you are going to be blown away."
Regent's Seven Seas Explorer embarks on its maiden voyage from Monte Carlo on July 20; it will sail the Mediterranean until November and then spend the winter season in the Caribbean.