By Steve Almasy, CNN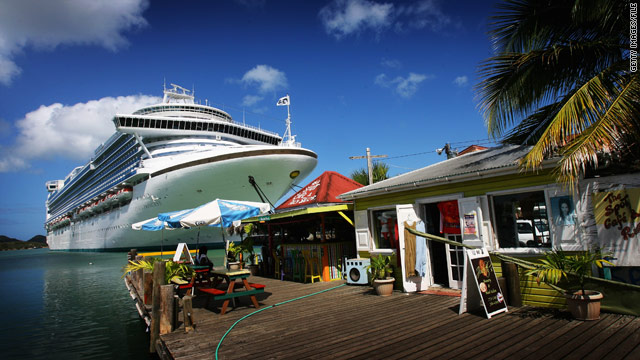 Falling into a food frenzy is a hazard of cruising, but you don't have to bring extra weight home with you.
(CNN) — Stepping on the scale is the last thing you want to do when you get home from a cruise. It ain't gonna be pretty. All those late-night meals, desserts, fruity drinks — they add up, and they add pounds.
The typical cruise passenger gains one pound a day on a voyage of seven to 10 days, said John Primeau, a spokesman for Holland America, citing a longtime adage of cruise professionals.
But most of the pounds are packed on early in the voyage. Royal Caribbean statistics show that more food is consumed in the first few days of a cruise, and then passengers begin to slow down, said Frank Weber, the vice president of food and beverage operations for the cruise line.
While many people go on cruises to relax and enjoy the overwhelming number of food choices, experts say it is possible to enjoy what's on the menu without adding pounds — if you have a plan.
"The bottom line is [a cruise] is a food frenzy, so having some sort of structure is very important," said Dawn Jackson Blatner, a registered dietitian and a spokeswoman for the American Dietetic Association.
It's vital not to eat too many things that are bad for you or eat too many times, she said. Have three meals a day, starting with one about two hours after you get up, then five hours later, with dinner about five hours after that, she advised.
She also said the concept of the 25-25-50 plate is important. One quarter of the plate should be chicken, fish, turkey or steak; and one quarter of the plate should be a starch like macaroni and cheese, pasta or mashed potatoes. The other half of the plate should be vegetables or fruits.
"Why this works is, you don't feel deprived, you are getting your favorite things, which is how it should be when you are living it up, but most of the plate is low-calorie, high-water, high-nutrition foods," she said.
And passengers have great exercise opportunities on board, Jackson Blatner said. Cruisers should do something fun they might not do at the gym at home, like climb the rock wall, swim in the pool, ride bikes on shore or take part in an exercise class, she recommended.
Before going on her first cruise, Jillian Michaels has gone over the menus for hours and hours.
The celebrity trainer and fitness expert, who will be spending four nights in the Caribbean in late October, doesn't have to worry about the buffets and restaurants being full of fatty fried entrees and sugar-laden desserts.
After all, it's her cruise — the Ultimate Wellness Cruise — so the food won't be the usual cruise fare. She and her company have chartered the 2,400-passenger Norwegian Star and its 14 restaurants for a fitness retreat. Michaels said she spent a lot of time looking at the Norwegian Cruise Line menus and making suggestions for more nutritious options for this cruise.
"What we're trying to do is replace a lot of it with recipes from my cookbook," Michaels said by phone during a break in shooting her new series, "Losing It with Jillian."
"And we'll have general rules like none of this bread, only that bread, no butter, only olive oil, I mean it's been a big endeavor. … We're still going to have favorites, but they are going to be modified."
Michaels says her cruise menus will be different, with her carefully selected food options.
The standard menus "couldn't have been any worse" from a weight loss perspective. "Everything had butter, cream, cheese, tons of oil. Every fish dish was breaded and fried."
All that had to go. The idea is to give people a long weekend in the Caribbean where they can learn as much as possible about food and its restorative properties, she said.
And she promises to be just as tough on the people in fitness classes as she would be on any of the contestants on her TV shows.
"The idea of a wellness retreat can be very exciting," said Jackson Blatner, the dietitian. "So if you sign up for the right kind of cruise, it makes a lot of sense and it can be a really great jump-start to a diet plan. … But my only concern is it is [a lifestyle] a lot of people can't maintain when they get home."
Michaels' cruise is one of the rare trips that aim at a healthy lifestyle onboard.
Richard Simmons has a Cruise to Lose group of about 250 people in late September on Carnival Cruise Lines, and the spring will bring the eighth version of the Holistic Holiday at Sea on the Poesia, a 2,500-passenger ship under the MSC Cruises flag, Mary Hartley, a registered dietitian, said in an e-mail. Crystal Cruises and Norwegian Cruise Line also offer trips for the health conscious.
Hartley said keeping an eye on your waistline has a lot to do with your attitude.
"People who maintain healthy weights usually don't overeat at special occasions," she said. "They don't look for excuses to overindulge, and they try to keep it healthy."
Cruise lines are always looking for ways to improve their menus, said executives from two of the largest companies. Steve Kirsch, the director of culinary operations for Holland America, said that with the fall Caribbean season starting in October, his group is looking at the food on board the company's ships.
"We change menus at the start of every program," he said. "We are constantly evaluating trends. For instance, we have five to 10 gluten-free items on our menus now. We have two computer programs in place that we use with our recipe development program."
He recommended working with the cruise line when you book your tickets if you have special dietary considerations or want a low-fat menu. He pointed out that Holland America has what it calls its Greenhouse Spa Cuisine items, with low-calorie, low-fat choices on the menu.
On other lines, the health-conscious options go by different names: on Celebrity, the items are known as "Renew"; on Royal Caribbean, they are labeled "Vitality."
"[The Vitality option is] a three-course meal that has 800 calories or less," said Royal Caribbean's Weber, who added that the calorie count has been added to the menu. "At the buffet, the healthier options are marked with the Vitality logo. On the Oasis, our newest ship, we also created an entire buffet restaurant that is dedicated to healthy food."
Weber, who was in Finland inspecting one of Royal Caribbean's ships that is under construction, said that he expects future vessels to have dedicated healthful eating restaurants and that older boats might have one restaurant that is retrofitted for lighter fare.
Weber credited TV stars like Michaels and celebrity chefs with making healthful eating more popular.
"It's not so much about going on a specific diet," he said. "The guests still want to enjoy food, but they are aware of the impact, so it becomes about balance. So some days, they might enjoy themselves, and the next day, they will eat a salad for lunch."
He pointed out that many people are overwhelmed on their first few days on the ship because there are so many different options.
Too many bad options, said Michaels. So if you go on the cruise with her, don't be surprised when you can't find any sodas or there isn't a midnight buffet and some of the restaurants aren't open. And don't be shocked if you actually lose a pound or two.